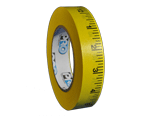 Trade show floor space is at a premium and show producers and your neighbors will make sure that you don't stray into their territory.
Here's a quick tip to make sure that your booth fits exactly into its allotted space.
Before setting up the booth, use printed paper measuring tape to lay out exact dimensions on the floor. Good layout makes good neighbors.