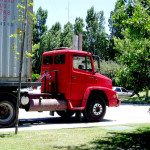 If getting your exhibit and trade show materials to the expo site involves working with a trucking company, these tips might help prevent your materials from being missing in action.
Carry hard copies of all documents related to shipping, as well as uploading scanned copies to your phone.
Keep a record of all tracking and PRO numbers and share them with anyone who might need to track down the shipment.
Make sure you have the carriers customer service number and request the cell phone number of the drive who will make the delivery.
Make sure that there are multiple labels with your contact information both outside and inside all your shipment pieces. You can make these with label tape and an indelible marker.