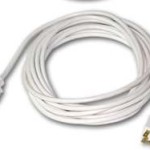 Nothing ruins a well designed, color coordinated trade show display quicker than a bright orange extension cord snaking through your booth.
Most signage and display materials have white backgrounds for best displaying your items and making your text stand out.
Include a white extension cord in your booth design to blend in with your background materials.