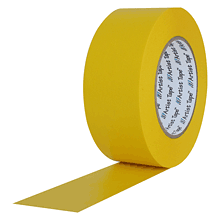 Touch ups up trade show booths with spray paint can't be done onsite, since the use of aerosol sprays isn't allowed on most show floors.
Booths and displays in high traffic areas are subject to dings and bumps and it can be a challenge to keep things looking fresh, particularly when a show runs for several days.
Quick color matched repairs can be achieved with colored gaffers tape and nothing is released into the air when you do it.
Here is a link to gaffers tape in over a dozen 19 different colors and four different widths.