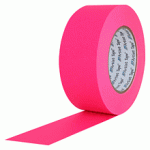 If you've ever had the opportunity to visit a receiving dock just before a trade show in a major convenition facility, you know how overwhelming the assemblage of cases, cartons pallets and boxes can be. Sometimes there are thousands and yours may be right in the middle.
If you palletize your material, make sure each parcel is labeled UNDER the shrink wrap, along with multiple labels outside the shrink wrap where they can be easily read.
To make your items stand out among the masses, make sure each individual piece is liberally marked with the same color gaffers tape so that it is easy to recognize everything that is yours.
TheTapeworks.com
Harrison Bros. Inc.
866-386-8335
sales@harrisonbros.com