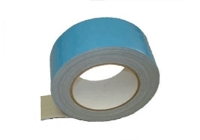 Most trade show floors are sealed concrete. They need to be able to stand up to forklift abuse and to thousands upon thousands of footsteps.
The carpet you will probably be standing on is temporary and is taped to the concrete with double faced tape. There are lots of seams, since the carpet must be in rolls small enough to be easily transported, and it is these seams that can cause you problems.
While it is the responsibility of the facility management and their crews to make sure that the carpet goes down correctly and stays down for the duration of the show, it quickly becomes your problem if your booth attendees are the ones impacted.
Unfortunately, if a carpet seam falls in front of your booth or inside the perimeters of your display space, you may not have time to wait for someone from the facility to fix the problem.
Keeping a roll of double faced carpet tape in your show work box lets you fix the problem quickly and be sure that no one trips while visiting your booth.