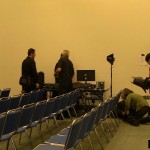 While the bulk of double faced carpet tape is used for temporary installations in exhibition halls, it has lots of uses around the house too.
Holding a rug or runner in place, keeping an outdoor carpet where you want it and "re-gluing" a loose tile are just three possible in home uses.
Click here for some tricks and tips.