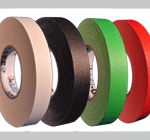 It is all but inevitable that through transit, set up and use over several days that your trade show exhibit will suffer some dings and bangs. You know that keeping it looking fresh and sharp is important for maintaining your image. You also know that you spend a lot of money on it and it needs to last for more than one show.
thetapeworks.com/tape/index.php?cPath=42_44″ target="_blank">Colored gaffers tape is perfect for on-the-fly repairs. Using spray paint or any other solvent based liquids (paints, adhesives, etc.) won't be allowed on the show floor and complicated repairs may require that you use union stage hands.
Gaffers tape is matte finished, so you can create almost invisible repairs. It is hand tearable and can a repair can be made without any tools.
When planning the color scheme for your exhibit, it might even be worth color matching to currently available gaffers tape colors.