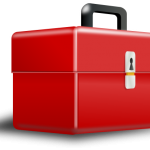 The Trade Show Institute has published a document called "What's A Gang Box And Why Do I Need One".
It's a list of things that every trade show exhibitor should take with them in order to make sure that their display goes together with minimal complication and gives maximum exposure.
Click here to see their document and to download the list.
Click here, to begin filling up your box.