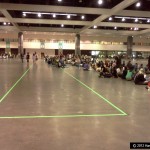 More and more trade show venues are developing "approved tape" lists, and some are even trying to force you to purchase from an approved vendor. If you're the customer, then it might be time to push back.
We understand that no facility wants their paint damaged or residue left on their floors, but takeing away the tools that you need to install a booth, keep it looking sharp and making sure that no one trips over cables or carpet sometimes makes the use of tape necessary.
Products like gaffers tape, with its clean removal adhesive and paper label tape that is designed to remove without damaging delicate surfaces are things that are hard to live without.
Remember that when you are entering into a contract with a hosting facility everything is negotiable. If you are willing t be responsible for any damage you do and you leave floors and walls as clean as they were when you arrived, then you have athe right to expect a reasonable tape policy and you also have the right to purchase from whomever you want, not just a venue-approaved vendor.