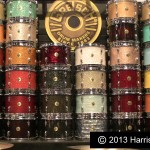 The only thing worse than having no on interested in your trade show booth is to have too many people interested in it.
When attendees overwhelm your booth staff, you run a high risk of making an important connection because a good prospect feels ignored and moves on to your competitors booth.
If you don't have the resources (read "staff") to immediately engage an attendee, make sure that they have something to play with until you can get to them personally.
Videos are good-Touch screens are better
Samples are good-Giveaway versions of your products are better
If you can't engage a prospect immediately, make sure you make eye contact and let them know that you will turn to them next.