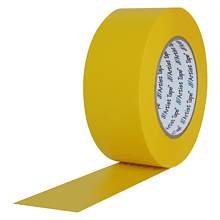 The more time you spend thinking about how your trade show booth will actually be assembled, the happier you will be when you get to the show.
Most trade show displays are built with very light material to save shipping costs and cut down on set up time.
Being able to pre-assemble parts before they are shipped will let you focus on why you are at the show-to meet customers and make sales.
Making parts of your display foldable really cuts down on your hands on time.
A great product for this pre-assembling is gaffers tape. You can take adjacent pieces of your display and make them foldable buy making hinges from the tape.
Because gaffers tape comes in 20 colors, you can easily color match the hinge to the material it is attached to to give you a clean look.
A cloth tape hinge can be folded and flexed thousands of times without breaking.
TheTapeworks.com is your "go to" source for all sorts of trade show supplies, including gaffers tape, extension cords, batteries and lots more.
TheTapeworks.com
Voice 866-386-8335
Fax 800-327-6651
Email sales@harrisonbros.com
Harrison Bros. Inc.
47 North Chatham Pkwy.
Chapel Hill, NC 27517